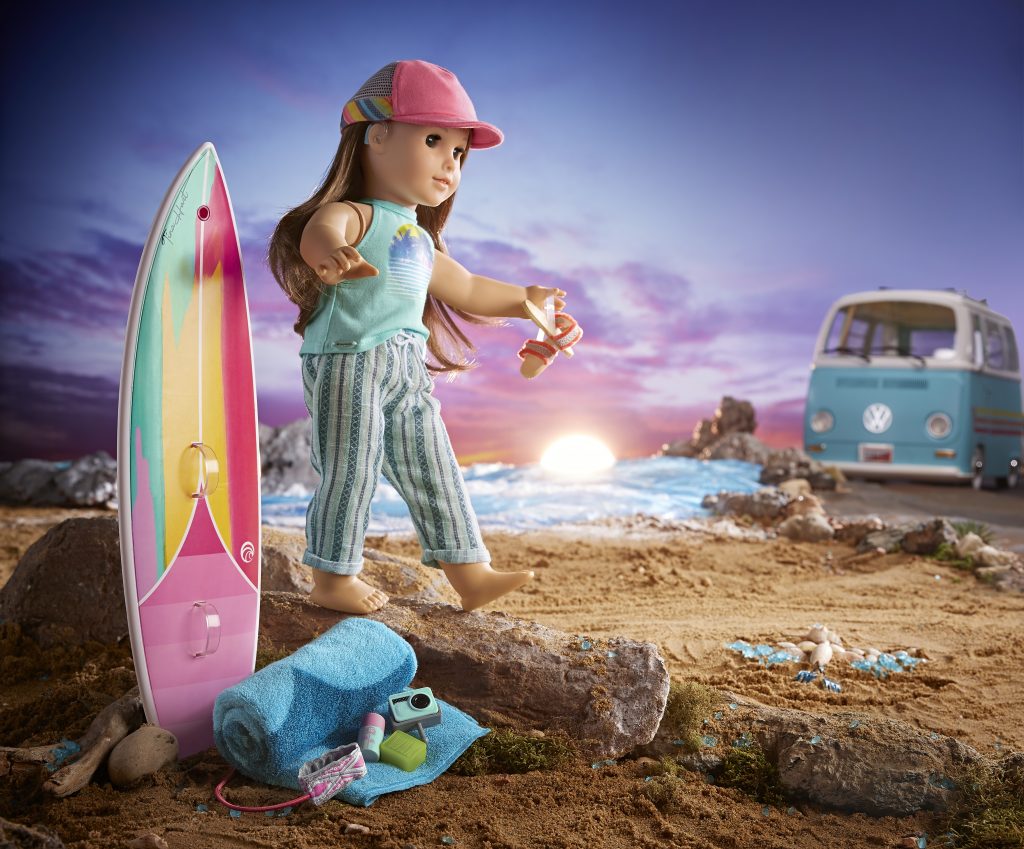 Disclosure: This is sponsored post by America Girl. As a American Girl Ambassador.
All opinions are my own.
Millions of girls everywhere are counting down to welcome the New Year and American Girl's newest Girl of the Year

, Joss Kendrick

! Launching on January 1, Joss. Joss — a fierce athlete born with hearing loss and a passion for surfing and competitive cheer — joins American Girl's lineup of inspirational characters who impart meaningful life lessons to help girls learn and grow with confidence. Whether she's on her surfboard or in the gym, Joss shows girls the importance of trying new things, pushing past stereotypes, and being a good team player.
To celebrate the new Girl of the Year, American Girl is teaming up with 17-year-old surfing prodigy Caroline Marks, as she prepares to make history next summer as a member of the first-ever U.S. Women's Olympic surfing team. "I'm so excited to be a part of the Joss launch and share her message that passion and hard work can really take a girl places—even to the Olympics," said Marks.
"American Girl has a rich legacy of creating timeless characters who encourage girls to reach for new heights and discover who they're meant to be," said Jamie Cygielman, General Manager of American Girl. "We're proud to welcome Joss Kendrick, whose stories are sure to instill confidence and character in girls who are learning to think about the possibilities in their own lives. Working with Olympic hopeful surfer Caroline Marks adds real-world inspiration about what can happen when you go 'all in' on your dreams."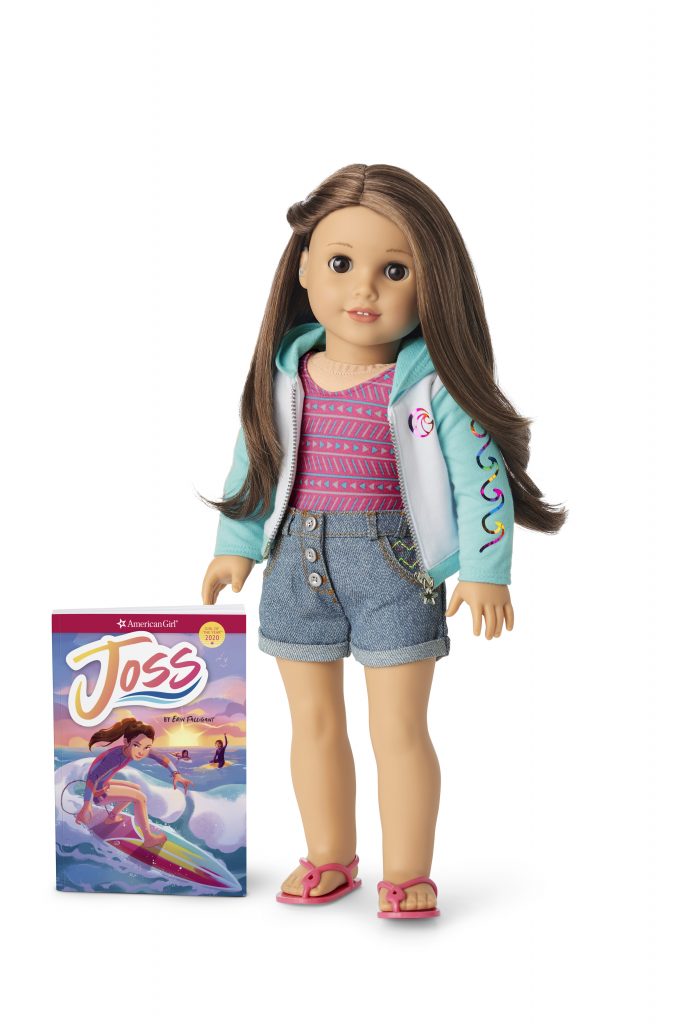 To create Joss, American Girl worked closely with a team of experts specializing in surfing, competitive cheerleading, and hearing loss, including:
In the two-book series, Joss grows up in Huntington Beach, California, also known as "Surf City U.S.A." When the surf's up, Joss loves to catch the waves any chance she can get. When she accepts her brother's dare to try out for the competitive cheer team, Joss figures it'll be easy. But instead of pom-poms and chants, Joss is surprised to see daring pyramids, flips, and jumps, and realizes the first rule of surfing—give respect to get respect—applies in the gym as well. By going all-in with cheer, Joss reaches new heights and discovers a whole new side of herself.
Joss comes to life through a beautiful 18-inch doll with long brown hair and brown eyes. She arrives wearing a swimsuit, hoodie, and shorts, plus a removable hearing aid in her right ear. Other Joss products include a surfboard and swim gear, cheer outfits and equipment—including a cheer backpack, slides, and competition shoes in partnership with Nfinity®—and her talented English bulldog, Murph the Surf Dog. And coming this spring, American Girl, in partnership with Volkswagen Accessories, will debut Joss's Volkswagen Surf Bus, which comes fully stocked with more than 50 components, including a storage bench that folds into a bed, a pop-up stove, and a fold-out table. The surf bus also features working headlights, turn signals, windshield wipers, and a radio, plus sounds for the horn and ignition.
American Girl fans can participate in the following Joss activities and events starting January 1:
In honor of Joss, American Girl is proud to partner with Hearing Loss Association of America (HLAA), the nation's leading nonprofit representing people with hearing loss, with a $25,000 donation to support the organization's education and awareness programs. American Girl is also supporting HLAA's 2020 Walk4Hearing. Celebrating its 15th year, the Walk4Hearing brings families together across the US to encourage hearing health and living well with hearing loss. And, from January 1, 2020 through the end of the year, the company will collect donations for HLAA at americangirl.com and at American Girl stores nationwide.
The Joss collection is available on now, at americangirl.com and at all American Girl retail locations nationwide and, starting January 1, 2020, at American Girl specialty boutiques at select Indigo

and Chapters

locations in Canada and online at Indigo.ca. The Joss doll and book retails for $98 and the Joss books ($7.99 each) can also be purchased through retail and online booksellers.
The post AMERICAN GIRL'S 2020 GIRL OF THE YEAR™ JOSS KENDRICK-Fly high, defy limits, and discover the new you appeared first on Savings with Denise.
---